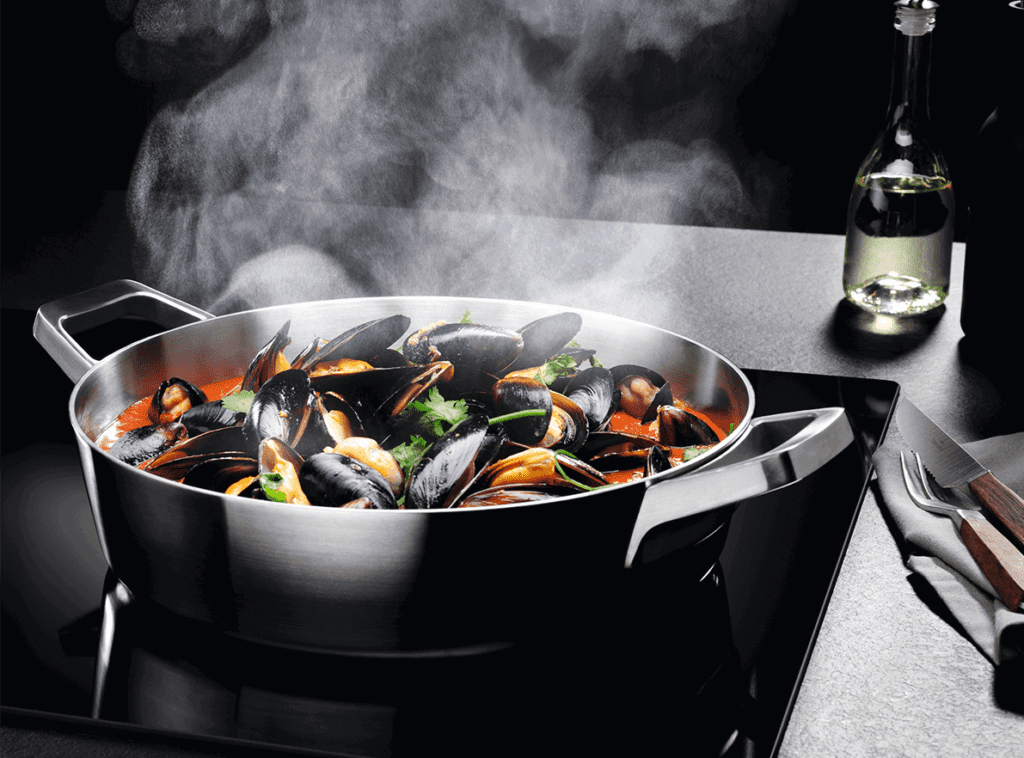 If you indulge in the joy of cooking, then you'll be able to appreciate fine-quality appliances when they come your way. Opting for the right selection of kitchen appliances will see you benefit from more flavoursome meals, less time spent on time-consuming meal preparation, storage, and cleanup, and a more simplified and enjoyable cooking experience. Here are some of the most highly recommended kitchen appliances in Dubai.
AEG kitchen appliances: made to impress
AEG is one of the most well-known German domestic appliance manufacturers and a top choice for consumers on the hunt for premium kitchen appliances. For more than 125 years, AEG has been a trusted supplier of the most advanced and industry-leading appliances to enhance consumers' quality of life and living standards. Whether you're a revered chef, or a humble food and home enthusiast, the level of quality will impress even the most discerning buyer on the market.
With a focus on leading design and high standards of quality, AEG delivers its prime range of kitchen appliances to you, whether your goal is food preparation or food preservation.
Exploring AEG kitchen appliances Dubai
If you're on the market for a built-in refrigerator to complement your sleek and minimalist kitchen design, AEG has the solution you've been looking for. AEG built-in refrigerators are ideal for fully integrated door-on-door installation and come with a wide range of benefits. These include electronic touch controls with digital indications, a NoFrost freezer with removable glass shelves, and right & reversible door hinge placement, to name a few.
If it's an elevated baking and grilling experience you're after, then AEG's electric and gas ovens are sure to impress. Prepare tantalising pastas, hearty veggies and decadent cakes when you choose from the variety of ovens available. Whether you opt for a multifunctional oven with anti-fingerprint stainless steel finishes or one with integrated steam functions and touch controls, you've got the pick of the litter.
Other AEG kitchen appliances Dubai include chimney, pull-out and cooker hoods, dishwashers, freezers, ceramic and gas hobs, double-door fridges, and chest freezers.
IGNIS kitchen appliances: quality and style combined
As the first Italian home appliance brand, IGNIS is a brand with a reputation that precedes itself. Established in 1943, it is a symbol of Italian values and fine-quality craftsmanship, with its kitchen appliances being no exception.
Getting to know IGNIS kitchen appliances Dubai
Whether it's appliances made for food preparation or preservation, IGNIS does not disappoint. From built-in ovens to impressive refrigerators, the Italian manufacturer is renowned for its exceptional quality kitchen appliances.
Enjoy an enhanced cooking experience with the 5-burner gas hobs available from IGNIS. Featuring a modern stainless steel finish, 5 gas burners, and a safety device on the burner itself, here is a hob that ensures you can prepare multiple dishes all at once. Whether it's steamed vegetables on the smaller burner, a lamb shank on the larger one or a number of dishes cooking all at once, this hob is designed to meet the needs of consumers looking for a quick and convenient cooking experience.
If built-in is more your style, you'll adore the microwaves by IGNIS. Take your pick from the microwave+grill option or go simple with a microwave-only choice. Either way, IGNIS microwaves come with necessary features that include an LED display, digital timer, and efficient cooling fan.
Effectively and efficiently store your foods in an IGNIS chest freezer, perfect for bulk-buying shoppers, or those who enjoy meal prepping and freezing food for later. Indulge in its 315-litre gross capacity for ample room, the defrost system or fast-freezing functions, and its convenient thaw water draining system to avoid ice buildup and long-term damage.
IGNIS also provides a variety of other kitchen appliances ideal for its Middle Eastern consumers, including ice makers, electric and gas ovens, freezers, gas hobs, and more.
Universal Trading Company, L.L.C.
As an authorised distributor of AEG and IGNIS products in the Middle East, Universal Trading Company is the go-to destination for all your kitchen appliance needs. Since 1973, the Universal name has been one that is associated with quality and trust.
If you would like to browse the full range of kitchen appliances in person, visit our local showrooms in Dubai, Al Ain, and Abu Dhabi.
Alternatively, you can visit our website to make an inquiry or place an order online today. Whatever your preference, one of our friendly agents will be happy to assist you with your new and exciting kitchen appliance purchase!
We can't wait to hear from you.